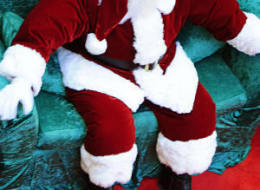 "A small-time actor and former children's entertainer who was known for playing Santa Claus was sentenced Monday to nearly 20 years in prison for his role in an international sex tourism ring that preyed on young children." – David Porter at Huffington Post reports.
Fortunately, it is a very small minority of Santa Claus actors who are predators, but it is something to be wary of in anybody. Thanks to Anne for sending in this story.
Leave a Comment.
Nov. 16: A scuba diving Santa delivers gifts to the whales at an aquarium in Yokohama, Japan. Msnbc.com's Dara Brown reports. (msnbc.com)
Leave a Comment.